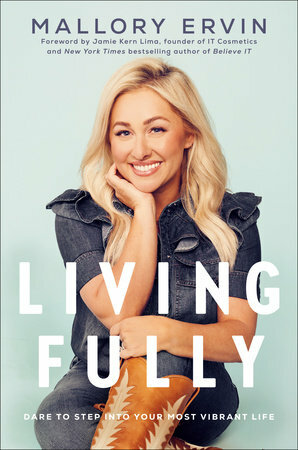 Living Fully:
Let Go of Unhealthy Attachments,
Stay Inspired, and Find Lasting Fulfillment
by Mallory Ervin
Note: All of the book links will take you directly to Storygraph.
I do not use affiliate links, if that's of concern.
Please consider purchasing any books you like from
your local independent books store.
Book Description:
In Living Fully, Mallory shares her personal story of overcoming the unhealthy and damaging patterns in her life and shows readers how to trade this for something completely new and more rewarding. What she discovered was there had always been a different life available to her, one that she had not yet seen. Now she encourages readers to resist a "just fine" existence and to step into a life they never dared to imagine before. 
My Take:
I received a digital copy of this book from NetGalley and Convergent Books.
I voluntarily read and reviewed a copy of this book.
All thoughts and opinions are my own.
#NetGalley
Another usable resource for inspiration in improving your life.
Let's be honest, any self-help book is going to recommend similar things for you to do to make your life the best that it can be. This is true with Living Fully and fairly unavoidable. However, Mallory's storytelling and anecdotes provide a fun read with valuable information throughout. There are several muddy metaphors and slightly convoluted analogies, but the underlying messages still come through.

Even if the advice is not completely new, if this book provides any one person the added inspiration or incentive to make their own life better, it would be well worth sharing and recommending this book.
Great storytelling makes for a fun read, whether looking for advice or not.
Mallory uses her own stories and life experiences throughout the book to illustrate her ideas on "living fully" and what that means. This makes the book almost more of a memoir than a self-help book, so even if you aren't truly looking for guidance on changing your life, this is still a good read.
The Final Verdict
My rating: 3.5 stars
Would I recommend? Yes
I recommend this book for any fans
of Mallory's or anyone who is looking for
guidance in changing their life.
You Might Like These Posts, too
A quick hit on three books I've recently read that were full misses for me.
Keep reading
Book review of Huda F Are You? By Huda Fahmy, which contains all new comics illustrating her journey of self-discovery as a teen.
Keep reading
Book review of Alien Nation: A Celebration of Immigration from the Stage to the Page by Sofija Stefanovic, a compilation of a wonderful range of stories of immigrants filled with hope, despair, sadness, love, laughter, and more.
Keep reading
Subscribe
Recent Posts