The Highlander's Unexpected Proposal
by Heather McCollum
The Highlander's Unexpected Proposal
by Heather McCollum
Note: All of the book links will take you directly to Goodreads.
I do not use affiliate links, if that's of concern.
Please consider purchasing any books you like from
your local independent books store.
Book Description:
A lass begging to marry him might top the list of "oddest things to happen," but Chief Adam Macquarie is desperate. And no matter how much he hates to do it, he's not above lying to get what he wants. Starting with the fact that he just omitted the truth about the situation back at his home—where there are no women and only a handful of other people. Because he has a secret need for a wife himself, one she won't be too happy about when she finds out.

Lark Montgomerie is thrilled the brawny chief agrees to save her from her drunken father's machinations of wedding her off to the first fool that agrees. He's easy on the eyes and no one can be worse than her current options. Now a new life awaits her, on an exciting Scottish isle no less, and nothing will dampen her spirits. That is, until she arrives in her new homeland and realizes more than a few things are amiss…
My Take:
I received a digital copy of this book from Entangled Publishing and NetGalley.
I voluntarily read and reviewed an advanced copy of this book.
All thoughts and opinions are my own.
A short way into this book, I found myself thinking, "Wow, this plot seems familiar."
Oh, it is – it's VERY much like Seven Brides for Seven Brothers, right down to the alphabetical naming of the brothers. Instead of Adam, Benjamin, Caleb, Daniel, Ephraim, Frank, and Gideon, we have Adam, Beck, Callum, Drostan, and Eagan. Now, I love Seven Brides for Seven Brothers, but it made the first 2/3 of the book fairly predictable, with the last third cramming a secondary, eye-roll-inducing plot into too little space.
Excusing the predictability of the plot and chocking it up to "romance novel formulation," the final reason I am giving the rating I am, is due to the apparent need for euphemisms for body parts. C'mon – you are writing about steamy sex up against a wall, we don't need you to be prudish in your descriptions.
#TheHighlandersUnexpectedProposal #NetGalley
The Final Verdict
My rating: 2.5 stars
Would I recommend? Ehh…
Extras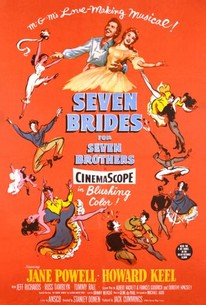 You Might Like These Posts, too
Subscribe
Recent Posts