Meet your reviewers:

Me – hi, we've met.
MyHusband – in a relationship for 10+ years; fluent in sarcasm, Dodgeball quotes, and Monty Python and the Holy Grail facts.
MyChild – 7 years old; current* favorite movie: Hotel Transylvania 3
*subject to change at any moment
Movie – The House with a Clock in its Walls (2018)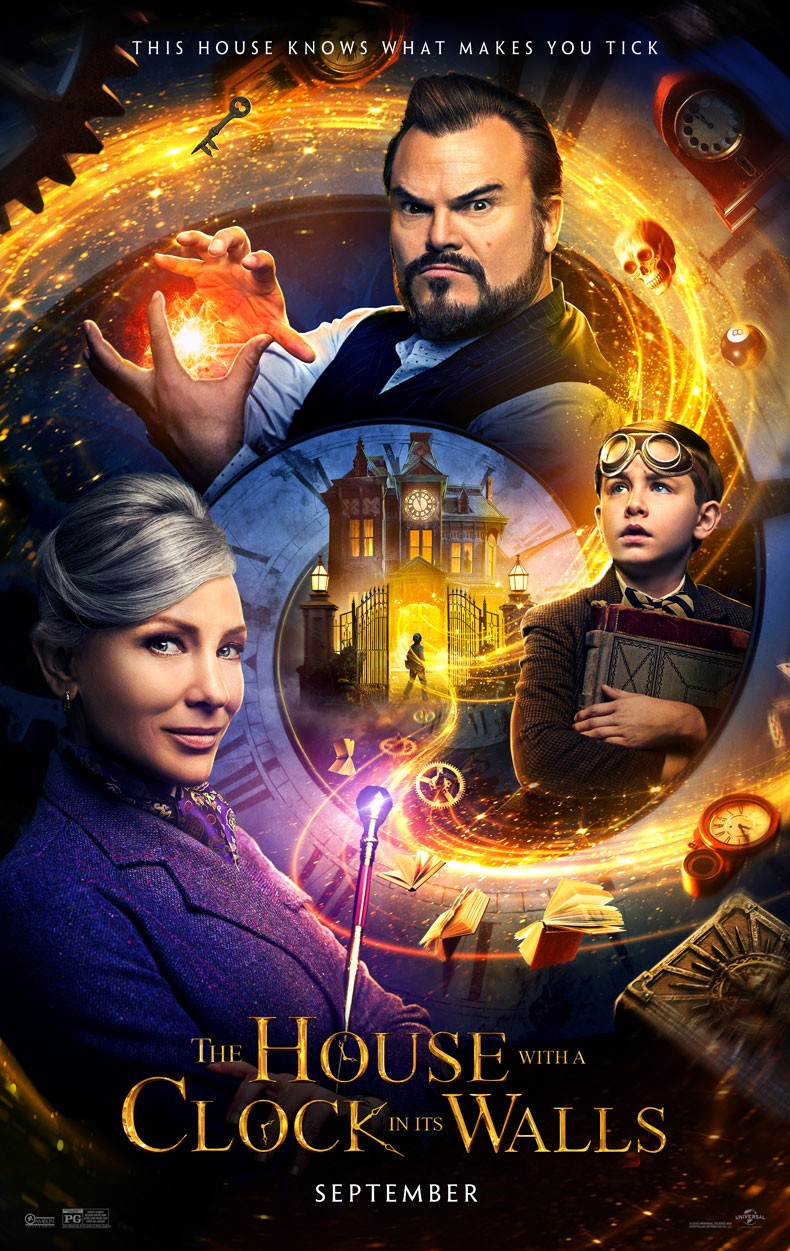 Movie Synopsis:
In the tradition of Amblin classics where fantastical events occur in the most unexpected places, Jack Black and two-time Academy Award (R) winner Cate Blanchett star in THE HOUSE WITH A CLOCK IN ITS WALLS, from Amblin Entertainment. The magical adventure tells the spine-tingling tale of 10-year-old Lewis (Owen Vaccaro) who goes to live with his uncle in a creaky old house with a mysterious tick-tocking heart. But his new town's sleepy façade jolts to life with a secret world of warlocks and witches when Lewis accidentally awakens the dead. (source – Rotten Tomatoes)
My take:
I surprisingly really liked this movie.
I thought Jack Black was perfect for this character – a little weird, messes up, but means well.
I loved the presence Cate Blanchett brought to the movie, too. Her onscreen relationship with Jack Black worked very well. She also had my very favorite line in the entire movie:
Even though my outsides got better, my insides didn't.
The moment I heard that, I thought, "Oh, here's a relatable and teaching moment. Well done!"
Parenting note: MyChild did get a little scared during one part of the movie. It wasn't due to anything actually on screen, but they built the suspense up so well, she was quite nervous. Once the scene resolved, she said, "Oh, okay!"
The Final Verdict
Me: 3.5 stars
MyHusband: 4 stars
MyChild: 5 stars
MyChild's Favorite Part (no spoilers):
"I can't pick one favorite – I liked the whole thing!"
We hope you enjoy!