After the Romanovs
by Helen Rappaport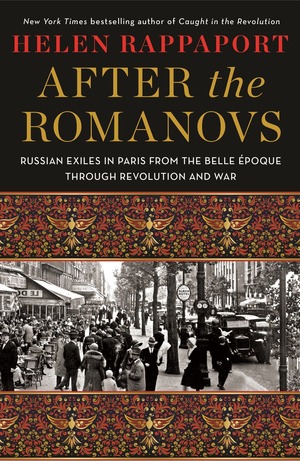 After the Romanovs:
Russian Exiles in Paris from the Belle Époque
Through Revolution and War
by Helen Rappaport
Note: All of the book links will take you directly to Storygraph.
I do not use affiliate links, if that's of concern.
Please consider purchasing any books you like from
your local independent books store.
Book Description:
Arriving in Paris, former princes could be seen driving taxicabs, while their wives who could sew worked for the fashion houses, their unique Russian style serving as inspiration for designers like Coco Chanel. Talented intellectuals, artists, poets, philosophers and writers struggled in exile, eking out a living at menial jobs. Some, like Bunin, Chagall and Stravinsky, encountered great success in the same Paris that welcomed Americans like Fitzgerald and Hemingway. Political activists sought to overthrow the Bolshevik regime from afar, while double agents plotted espionage and assassination from both sides. Others became trapped in a cycle of poverty and their all-consuming homesickness for Russia, the homeland they had been forced to abandon.

Paris has always been a city of cultural excellence, fine wine and food and the latest fashions. But it has also been a place of refuge for those fleeing persecution, never more so than before and after the Russian Revolution and the fall of the Romanov dynasty. For years, Russian aristocrats had enjoyed all Belle Epoque Paris had to offer, spending lavishly when they visited. It was a place of artistic experimentation such as Diaghilev's Ballets Russes. But the brutality of the Bolshevik takeover forced Russians of all types to flee their homeland, sometimes leaving with only the clothes on their backs.
My Take:
I received a digital copy of this book from NetGalley and St. Martin's Press.
I voluntarily read and reviewed a copy of this book.
All thoughts and opinions are my own.
#NetGalley
Valuable resource for several areas of interest.
Once again, I found myself drawn into a book that would have made an excellent resource for any number of my college history papers. Nothing like a textbook, but filled with information and well-documented sources, this book will be a great addition to any library for those interested in French history, Russian history, WWI history, the rise of the Bolsheviks, the end of the tsars of Russia, the fall of the Romanovs, the history of migration and emigration across Europe, the history of refugees, and so much more.
Fascinating read of the culture and people in the years up to and after World War I.
The author does a wonderful job painting the picture and submerging the reader in the world of Paris, eastern Russia, and several places in between during the end of the 1800s and through the interwar period of the 1920s and 1930s. Without getting bogged down in details, the presentation is a great balance of providing as much information as possible while still being relevant and impactful.
The Final Verdict
My rating: 3.5 stars
Would I recommend? Yes
I recommend this book for anyone interested in a variety of topics
up to, during, and following World War I.
You Might Like These Posts, too
Book review of The Lazy Genius Kitchen by Kendra Adachi which fully lives up to the hype.
Keep reading
In this crazy, fast-past, get-as-much-done-as-possible world in which we live in, we all have acquired the tendency to take the quick surface information and move on. How often we take someone else's interpretation and run with it? I'm looking at a few phrases and sayings that have been twisted over time and have encouraged all of us to rush to 'growing up.' Perhaps that isn't really the best way.
Keep reading
Book review of Zachary Ying and the Dragon Emperor by Xiran Jay Zhao, which is an incredible adventure from the get-go, with lines being blurred of everything the main character thought he knew.
Keep reading
Subscribe
Recent Posts