Meet your reviewers:

Me – hi, we've met.
MyHusband – in a relationship for 10+ years; fluent in sarcasm, Dodgeball quotes, and Monty Python and the Holy Grail facts.
MyChild – 7 years old; current* favorite movie: Hotel Transylvania 3
*subject to change at any moment
Movie – How to Train Your Dragon: The Hidden World (2019)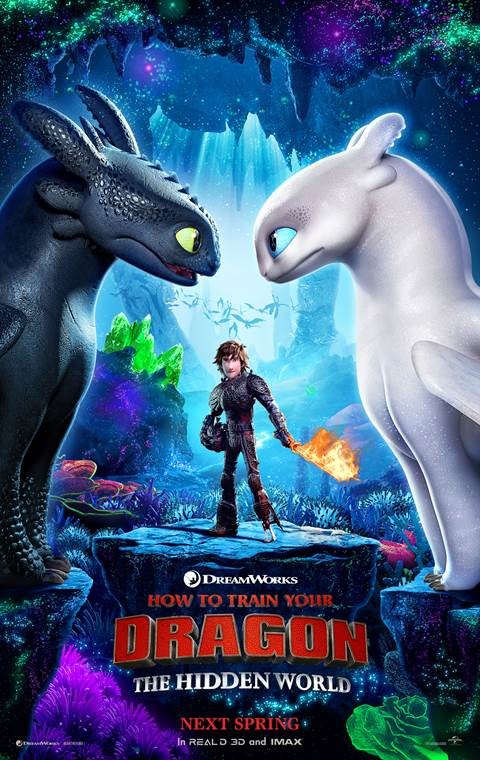 Movie Synopsis:
Now chief and ruler of Berk alongside Astrid, Hiccup has created a gloriously chaotic dragon utopia. When the sudden appearance of female Light Fury coincides with the darkest threat their village has ever faced, Hiccup and Toothless must leave the only home they've known and journey to a hidden world thought only to exist in myth. As their true destines are revealed, dragon and rider will fight together-to the very ends of the Earth-to protect everything they've grown to treasure. (source – Rotten Tomatoes)
My take:
Oh. My. Word.
I loved this movie. To me, the first How to Train Your Dragon movie was the best. It was so good at introducing us to these characters we now love and created a world we all wanted to visit. This movie come a close second in my ratings.
Side note: How to Train Your Dragon 2 comes a distant third in this group, for me. I just didn't love it. I barely watch it if MyChild is watching it. I just felt it tried too hard.
This was the perfect third movie in the trilogy. It addresses becoming an adult, taking responsibility, learning to make choices and sacrifices to benefit someone else, learning to accept help and recognize that sometimes working together it better than trying to do it all on your own. There is also an underlying current throughout on learning to recognize how strong you are and how to utilize that strength.
This movie wraps up the Berk trilogy so well. I really pray this is the end and we don't see a surprise fourth film in a few years in a naked money grab.
Personally, I did not cry, though I can absolutely see why many people do/did. It has nothing to do with the film, I guess I just wasn't in a crying mood that day.
On a random note: The bad guy is not voiced by Javier Bardem.
1. It sounded like him.
2. It looked like him.
3. I had to google to check and was so surprised. Not in a bad way, I was just shocked.
The Final Verdict
Me: 5 stars
MyHusband: 5 stars
MyChild: 5 stars
MyHusband says:
"Highest rating. I mean, I was awake the whole time.
What does that say?"
MyChild's Favorite Part:
She couldn't answer this without spoilers, so she settled on
"the whole thing!"
We hope you enjoy!
Subscribe
Latest Posts